Hans de Bie, who had a long career in journalism and was a longtime member of the Organizing Committee of the international Haarlem Baseball Week, passed away early-morning on Thursday, January 23, at age 83 after unfortunately having been troubled by health problems in the past months. Through the years, Mr. De Bie has been a very busy man, as he also was very active for multiple local communities, organizations, clubs and in politics. From his many contributions to the sport of baseball, he was named Member of Merit of the Royal Netherlands Baseball and Softball Association (KNBSB).
According to his wishes, Hans de Bie contributed his body to science.
A memorial service will be held on Saturday, February 1 at 2:30 PM in the St. Augustinus Church at the Amstelveenseweg 965 in Amsterdam. The ceremony starts at 3 PM.
Hans de Bie was born on October 24, 1936 in Amsterdam along with his twin-brother Johan. In the early fifties, both started to play soccer for the Amsterdamsche Football Club (AFC). A week ago, on January 18, AFC celebrated its 125th anniversary. AFC, which is nicknamed 'The Reds' (because of its red shirt) is the oldest soccer-club in Amsterdam. Since 1962, AFC plays its home-games at Sportpark 'Goed Genoeg', which is located at the De Boelelaan in Amsterdam. At the same site, the baseball-section of the club, founded in 1934 as Amsterdamsche Baseball Club (ABC), also played its home-games. Later, in the fifties, a softball-section was also added, which played under the same name (ABC). AFC also had a cricket-section, the Amsterdamsche Cricket Club (ACC). At the website of AFC, Kees Gehring mentions in his In Memoriam that in 1962 Hans de Bie played a supportive role in the commission that had to coordinate a smooth transfer from its previous site at the Zuidelijke Wandelweg to the De Boelelaan. Amongst the members of this commission were wellknown AFC-personalities as Dick Bessem, Gerard van Nigtevegt, Cor van Peperzeel and Lex Rimini.
In a column at the website of AFC some years ago, Johan de Bie wrote: ,,In 1950, I became a member of AFC after my twin-brother Hans and I were rejected by Blauw-Wit after having played a try-out game. We wanted to play for Blauw-Wit, as our father played for that club in the seniors." Later, Hans and Johan de Bie also started playing baseball and from the beginning, the twin-brothers were very involved in all sport-activities of the club. The two brothers always have been very close. Both became members of several commissions and also became members of the board of both AFC and ABC. Their parents Joop and Dora de Bie also became active for both AFC and ABC. In the seventies, Hans became a member of the board of the club and in 1996, he was named Member of Merit. His brother Johan is Honorary Member. Both are also members ot the so-called AFC-Ridders (AFC-Knights), a recognition someone gets for being a member of the club for 50 years.
After finishing school, Hans de Bie became a journalist. Initially, he worked for four years (1960-1963) as an editor at the city-desk of De Telegraaf, the biggest Dutch newspaper. From 1965 on, Hans worked for 32 years as an editor and later editor-in-chief for the NOS TV Journaal. However, from December 1997 on, he remained active in journalism as being an independant public relations and communications advisor. Being a journalist, Hans was a longtime contributor the AFC's official club-magazine, 'De AFC-Schakel' and was a longtime member of the club's Press and Publicity Committee. His brother Johan also contributed to the club-magazine, as did Pim Adriaansz, another wellknown member of the club. When ABC celebrated its 50th anniversary in 1984, Hans de Bie co-wrote a special book to commemorate the fact. De Bie also was the Editor-in-Chief of the book to celebrate the 100th anniversary of AFC in 1995. He also was active journalistically for the Royal Netherlands Lawn Tennis Association (KNLTB).
In 1967, Hans de Bie became the Editor-in-Chief of HonkbalBaseball, which then became the first independent Dutch baseball-magazine and was initiated by Albert Balink. Besides stories, interviews and other articles, it also published official news of the then Royal Netherlands Baseball Association (KNHB). The other editors were Nico Brands, Hans Doeleman, Gé Hoogenbos, Ed van Opzeeland, Harry van der Steeg and Theo Vleeshhouwer. Later, other contributors were Cees Boer Jr., Jan-Willem van der Horst, Bep van Houdt, Henk Knol, Jaap Kok, Cees Leseman, Rob Rijnders, Ton Schoordijk and Han Urbanus. In the magazine's second and third year, the editorial staff was expanded by contributors who covered baseball for the different regions, including Joop van Bolhuis ('t Gooi/Utrecht), Herman Spilker (Amsterdam), Piet Laurens (Het Oosten), Cees van Cuilenborg (Rotterdam) and Jan van Woensel (Utrecht). Martin Amberg contributed with articles regarding American baseball, while Walter Van Uytfangh and Roger Bogaerts regularly reported about Belgian baseball. In December 1969, after having led the magazine for three years, Hans de Bie stepped down. A year later, the Netherlands Baseball Association merged with the Netherlands Softball Association and became the Royal Netherlands Baseball and Softball Association (KNBSB). From 1971, Inside became the new baseball- and softball-magazine with Joop Köhler as Editor-in-Chief.
In 1969, Hans de Bie became a member of the Organizing Committee of the international Haarlem Baseball Week, which was first organized in 1961.
In 1969, the fifth edition was hosted in the Pim Mulier Stadium, which this year will be the site of the 30th edition (June 26-July 5). De Bie remained active for 'The Week' through 1994. From 1969 through 1978, De Bie was responsible for Press Affairs. In 1969-1976, he shared the position with Henk de Bruin, in 1978 with Frank Voskuilen. From 1978 through 1984, De Bie was the Vice-Chairman of the Committee. He initially retired thereafter, but from 1989 through 1994, De Bie returned as Commitee-member as Advisor. In the years that Hans de Bie was a Committee-member, twelve Haarlem Baseball Weeks have been organized. In 1979, there also was the Haarlem Six Day Tournament.
In these years, there were not much changes within the Committee. In 1969-1978, the Commitee was led by Gerard Voogd, while Karel de Graaf was the Secretary in 1969-1976 and Freek van Muiswinkel in 1978. Van Muiswinkel later became known for his role as Desk Sergeant Jochems in the popular TV-Series Baantjer and is the father of comedian/entertainer/actor Erik van Muiswinkel. After De Graaf also served as Treasurer in 1969-1971, Dries de Zwaan handled the finances in 1972-1976. He was succeeded by Piet Tromp in 1978. Other longtime Committee-members in those years were Henny Oosterhof (tournament-secretary), Piet van Deenen (game affairs/umpires), Jan Hartog (game affairs) and Wim Oosterhof (accomodation).
In 1979, Piet Tromp became the Committee's Chairman, succeeding Voogd, who stayed on as Advisor. Hans de Bie became Vice-Chairman. During the next three 'Weeks' (1980, 1982, 1984), the Committee underwent no changes. The other members in those years were Rita Schrijber (secretary), Gonny Wedemeijer (2nd secretary), Wim Ascherman (treasurer), Theo Vleeshhouwer (tournament affairs), Frank Voskuilen (press affairs), Henk de Bruin (press affairs), Ben de Brouwer (member) and Piet van Deenen (accomodation). In 1980, Jules de Pierre also was a Committee-member.
After serving first as an editor, in 1992 Marco Stoovelaar became the Editor-in-Chief of this bulletin, called 'Leesvoer'. As such, Stoovelaar and Hans de Bie worked together closely in regarding the contents of the bulletin in 1990-1994. In those years, a new bulletin was produced for each game, in later years, a new bulletin is made daily. In 1995-2000, Stoovelaar was member of the Organizing Committee, handling Press Affairs. As such, he was one of the successors of Hans de Bie in this position. His successors in the Organizing Committee were Rob Spies (1988), Jacob Bergsma (1990, 1998), Lenno van Dekken (1992), Ard Dinkelberg (1994), Marco Stoovelaar (1995-2000), Ad Hendrikse (2000), Samuel de Leeuw (2002), Robert Sant (2006-2014), Janneke de Kan (2016) and Marleen Zwartkruis (2018).
In his years in the Baseball Week's Press Committee in the seventies, Hans de Bie produced the necessary information for the media, like starting line-ups and box scores. More and more, spectators also became interested in this information. In 1980, the Committee introduced a jacket with information for specators. That not only included box scores and statistics, but also newpaper clippings and tournament-news, called 'Short Stops'. Another item was 'Knol's time-out', a column written by Henk Knol, who was a member of the Press Committee since the first tournament in 1961. Knol also was a longtime Public Address Announcer and was active in the 'Week' though 1984.
There was no Haarlem Baseball Week in 1986, as the Netherlands then for the first time hosted the World Championship Baseball. The Organizing Committee of the World Championship was compiled of many experienced members of the Haarlem Baseball Week. Piet Tromp was the Committee's President and Hans de Bie was Vice-President, while then KNBSB-Chairman Guus van der Heijden was Co-President. Theo Vleeshhouwer was the Secretary-General, assisted by Rita Schrijber, while Wim Ascherman was the Treasurer. Ben de Brouwer, Piet van Deenen and Gonny Wedemeijer completed the Board. Gerard Voogd served as Advisor, Jaco van Ekeris handled the Administration and Hans Doeleman was the Media Officer.
The Haarlem Baseball Week returned in 1988 and during that event, the daily bulletin as we know it today made it debut as being a booklet. In 1988, the name of the bulletin was 'Pre-Game' and was edited by Rob van Tuyl, Jacqueline van der Hoeven and Marco Stoovelaar. Since 1992, Stoovelaar leads the editorial staff of 'Leesvoer' as its Editor-in-Chief. In recent years, that staff includes Coen Stoovelaar (since 2006), Györgyike Horvath (since 2008), Feiko Drost (since 2012) and Jasper Roos (since 2012). Marleen Zwartkruis joined the staff in 2018.
In the seventies and eighties, the Netherlands hosted the European Baseball Championship in Haarlem in 1973, 1977, 1981 and 1985. As the Organizing Committee pretty much was the same as that of the Haarlem Baseball Week, Hans de Bie also was involved in these events. In the two tournaments in the seventies, he handled Press Affairs and in the eighties, he was the Vice-Chairman of the Board. In February 1978, during the Council Meeting of the KNBSB, Hans de Bie was awarded the Slugger, the highest recognition of the Dutch Association for promotional activities. De Bie got the Award for his many and outstanding work in the Organizing Committee and the Press Committee of the 1977 European Championship.
Also in the early seventies (1970-1974), Hans de Bie was a member of the Media and Publicity Committee of the then-Amsterdam Region. Other members were Cees Boer, Sr., Henk van Ede (both 1970-1972), Hans Doeleman (1973), Herman Spilker and Hans Zwart (both 1974).
On May 26, 1983, the Foundation Netherlands Baseball and Softball Museum with Hall of Fame was founded by the KNBSB. From the beginning, Hans de Bie was involved as a member of the Board whose mission it was to preserve the history of baseball and softball in the Netherlands, as well as to induct individuals into a Hall of Fame. Nominees for the Hall of Fame are discussed by a special commission, who then vote for election. From its founding in 1983 through 1987, Hans de Bie was the Treasurer in the Museum's Board, which was led by former National Team-player Boudewijn Maat as its Chairman. Gé Hoogenbos, who played and coached in the Dutch big league, played for the Netherlands Team and also was a journalist, served as Vice-Chairman. The first Secretary was Rob van der Gaast, who was succeeded after two years by Greetje Immers. Then KNBSB-President Guus van der Heijden completed the Museum-Board. In 1988, Hoogenbos succeeded Maat as Chairman and Hans de Bie became Vice-Chairman, a position he held through 2001. Hoogenbos was succeeded as Chairman by Huub Nelissen, who led the Board in 1994-2001. From 1989 through 2001, Jan Bruyntjes was Secretary of the Board. In 1989, De Bie was succeeded as Treasurer by Wim Endel, who stayed on for many years. Also joining the Board in 1989 was former Netherlands Team softball-player Elly Nijhuis, who still is a member of the Board. Henk den Duijn and Maartje Nierop Groot also were longtime Board-members in the nineties.
In 1988, for his many contributions to the Haarlem Baseball Week, as well as his membership of the Organizing Committees of this event, European Championships and the Haarlem Baseball 6-Day Tournament in 1979, as well as his involvements, Hans de Bie received the so-called Association's Token from the KNBSB. In 1995, he was named Member of Merit of the KNBSB.
Besides his longtime involvements in the Haarlem Baseball Week, the Netherlands Baseball and Softball Museum, his many club-actitivities and his work as a journalist, Hans de Bie did much more. De Bie was a member of the board of the Stichting Chinese Sportfederatie Nederland (Foundation Chinese Sportsfederation Netherlands), which was founded in the seventies to stimulate sports amongst Chinese youth, adults and seniors. Through sports, the Federation wanted to encourage friendly relationships between Chinese people and to strenghten cooperation between Chinese clubs, as well as to encourage integration in the Dutch community. Annually, the Foundation organizes the international Chinese Sportmanifestatie in the Sporthallen-Zuid in Amsterdam. De Bie has been decorated as Honoray Chairman of the Foundation.
Hans de Bie also was a member of the board of the Buddha's Light International Association Young Adult Division Amsterdam (BLIA YAD) and as such was closely involved in the activities of the Fo Guang Shan He Hua Buddhist Temple, the biggest traditional Chinese temple in a palace-style in Europe, which is located at the Zeedijk in Amsterdam.
Living in Amstelveen, Hans de Bie also became politically active, as he became the Secretary of the local section of political party VVD. His brother Johan has been a Council-member for this party in Amstelveen.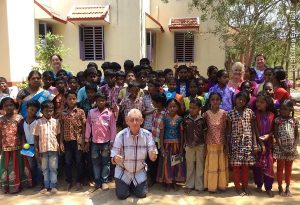 For many years, Hans also was a columnist of the Amstelveens Nieuwsblad, the local newspaper in Amstelveen.
In 1997, Harry Lo and his wife Jane Lo started what has become a tradition. As owner of Chinese-Taiwanese Restaurant Jasmijn Garden in Amstelveen, they organized a free Chinese lunch for local adults of 75 years and older. The Chinese Elderly Lunch became a big success. When the restaurant was closed, Jane Lo approached Hans de Bie (who lived and was very active in Amstelveen) to jointly continue the lunch, but then in the Amstelveen City Hall. Their proposal was accepted and since 2011, the City Hall is the site of the lunch and Council Members and Board-members serve the meals. Hans de Bie has been involved in the organization from almost the beginning, but he stepped down in 2014 to make way for someone younger and was succeeded by Michel Becker.
Hans de Bie also has been a member of the Amstelveen Sports Council and has been the Chairman of the Rabo Talent Award, which annually nominates young sport-talent in Amstelveen. De Bie also is an Honoray Member of the Sociëteit Olympisch Stadion, a society that organizes regular get-togethers in the Amsterdam-based Olympic Stadion. And since 1997, with his wife Louisa, he was active (as advisor) for Stichting Eco-Trust, a fundraiser for the care of children and nature in India, a country he visited several times.
For his many activities in Amstelveen for the local community in the fields of sports, politics and supportive duties, Hans de Bie received the city's Bronze Medal in 2008. In 2010, De Bie gave a lecture about the backgrounds of names given to streets in Amstelveen.
Hans de Bie's son Remko inherited the administrational qualities of his father. In 2012, Remko became the Treasurer of the Board of baseball- and softball-club Amsterdam Pirates, a position he held for more than six years. Since June 2018, Remko de Bie is the Treasurer of the Board of the KNBSB.
Hans de Bie was always friendly, had a smile on his face, had a lot of humor and always had time for a talk. Looking back to the past, talking baseball-memories, looking ahead, but also talking about his other activities, such as helping people. Hans de Bie will be missed by a lot of us.
Honkbalweek Haarlem offers his condolences to Hans' wife Louisa, his children Monique, Remko and Dyone and other family and wishes them a lot of strength with this big loss.